---
---
---
FREE
COPY
(pdf)
Current Thesis Advisory
62 pages
Published November 2009
EXTEND & PRETEND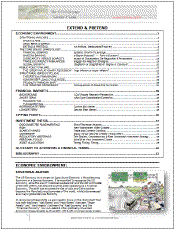 Click page to view Index
Add Promo Code: "Introduction"
in the Subject Heading
---
---
READ ALL THE
"PRESERVE & PROTECT" SERIES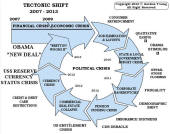 FOR UPCOMING SHOW TIMES SEE: COMMENTARY READER
Last Update: 11/15/2010 08:50 AM
SCHEDULE: 1st Pass: 5:30AM EST, 2nd Pass: 8:00 AM, 3rd Pass 10:30 AM. Last Pass 5:30 PM

Complete Legend to the Right, Top Items below.
Articles with highlights, graphics and any pertinent analysis found below.

| | |
| --- | --- |
| LATEST RESEARCH PUBLICATIONS | RSS |
COMMENTARY for all articles by Gordon T Long
CURRENCY WARS: Debase, Default, Deny!

In September 2008 the US came to a fork in the road. The Public Policy decision to not seize the banks, to not place them in bankruptcy court with the government acting as the Debtor-in-Possession (DIP), to not split them up by selling off the assets to successful and solvent entities, set the world on the path to global currency wars.

By lowering interest rates and effectively guaranteeing a weak dollar, the US ignited an almost riskless global US$ Carry Trade and triggered an uncontrolled Currency War with the mercantilist, export driven Asian economies. We are now debasing the US dollar with reckless spending and money printing with the policies of Quantitative Easing (QE) I and the expectations of QE II. Both are nothing more than effectively defaulting on our obligations to sound money policy and a "strong US$". Meanwhile with a straight face we deny that this is our intention.

Though prior to the 2008 financial crisis our largest banks had become casino like speculators with public money lacking in fiduciary responsibility, our elected officials bailed them out. Our leadership placed America and the world unknowingly (knowingly?) on a preordained destructive path because it was politically expedient and the easiest way out of a difficult predicament. By kicking the can down the road our political leadership, like the banks, avoided their fiduciary responsibility. Similar to a parent wanting to be liked and a friend to their children they avoided the difficult discipline that is required at certain critical moments in life. The discipline to make America swallow a needed pill. The discipline to ask Americans to accept a period of intense adjustment. A period that by now would be starting to show signs of success versus the abyss we now find ourselves staring into. A future that is now massively worse and with potentially fatal pain still to come. READ MORE

CURRENCY WARS: Misguided Economic Policy

The critical issues in America stem from minimally a blatantly ineffective public policy, but overridingly a failed and destructive Economic Policy. These policy errors are directly responsible for the opening salvos of the Currency War clouds now looming overhead.

Don't be fooled for a minute. The issue of Yuan devaluation is a political distraction from the real issue – a failure

of US policy leadership. In my opinion the US Fiscal and Monetary policies are misguided. They are wrong! I wrote a 66 page thesis paper entitled "Extend & Pretend" in the fall of 2009 detailing why the proposed Keynesian policy direction was flawed and why it would fail. I additionally authored a full series of articles from January through August in a broadly published series entitled "Extend & Pretend" detailing the predicted failures as they unfolded. Don't let anyone tell you that what has happened was not fully predictable!

Now after the charade of Extend & Pretend has run out of momentum and more money printing is again required through Quantitative Easing (we predicted QE II was inevitable in March), the responsible US politicos have cleverly ignited the markets with QE II money printing euphoria in the run-up to the mid-term elections. Craftily they are taking political camouflage behind an "undervalued Yuan" as the culprit for US problems. Remember, patriotism is the last bastion of scoundres READ MORE
---
---
READER ROADMAP - 2010 TIPPING POINTS aid to positioning COMMENTARY
1-SOVEREIGN DEBT

2-EU BANKING CRISIS
3-BOND BUBBLE

4-STATE & LOCAL GOVERNMENT

5-CENTRAL & EASTERN EUROPE
6-BANKING CRISIS II
7-RISK REVERSAL

8-COMMERCIAL REAL ESTATE

9-RESIDENTIAL REAL ESTATE - PHASE II
10-EXPIRATION FINANCIAL CRISIS PROGRAM
11-PENSION CRISIS

12-CHRONIC UNEMPLOYMENT

13-GOVERNMENT BACKSTOP INSUR.
14-CORPORATE BANKRUPTCY
11-13-10
1- SOVEREIGN DEBT & CREDIT CRISIS
Municipal Bonds Get Crushed BeSpoke


Couple the increased likelihood of an extension of the Bush tax cuts with a new Congress that has at the least put on a front of opposing further bailouts, and you get the kind of municipal bond performance we've seen in recent days. After drifting lower from late August to early November, the National Municipal Bond ETF (MUB) has tanked this week. The California Municipal Bond ETF (CMF) has tanked as well. So far the investment world hasn't paid much attention to this big move lower in the muni-bond market, but it's likely to get coverage soon if the declines continue.
California Muni Bond Fund Shellacking Ritholtz


All Aboard! Munis and California joining Ireland on the default train. Even the general Muni funds have lots of California Exposure








4- STATE & LOCAL GOVERNMENT
5- CENTRAL & EASTERN EUROPE
Three More Banks Fail
WSJ

Regulators seized two small banks in Georgia and one in Arizona, bringing the total number of bank failures to 146 so far in 2010.
Regional Banks to Get Hit By New Regulations: Whitney
CNBC
8- COMMERCIAL REAL ESTATE
9-RESIDENTIAL REAL ESTATE - PHASE II
Home Prices Fall in Nearly Half of U.S. Metro Areas WSJ
10- EXPIRATION FINANCIAL CRISIS PROGRAM
11- PENSION & ENTITLEMENTS CRISIS
The Employment Numbers Are A Lot Weaker Than You Think
Comstock
13- GOVERNMENT BACKSTOP INSURANCE
14- CORPORATE BANKRUPTCIES

China buys up the world Economist

Being eaten by the dragon Economist

Internationalising the RMB or world denomination Finance Asia

China reportedly limiting foreign property buys MW



19- PUBLIC POLICY MISCUES
T
he Hijacked Commission Krugman
---
---
OTHER TIPPING POINT CATEGORIES NOT LISTED ABOVE

24-RETAIL SALES

26-GLOBAL OUTPUT GAP

31-FOOD PRICE PRESSURES

About the coming large rise in food prices Fabius Maximus
Rising food prices might be one of the most important geopolitical trends of the decade.

What result do you expect from this combination of factors?
1- Rising demand for the product.
2- Inability to increase the key inputs. All that can be done is investment more into equipment and technology.
3- Low stockpiles
4- Low prices (near record low real prices)
5- Adverse production environment (bad external factors)
6- Now square the circle: What will balance supply and demand?
The subject is food, growing crops. The answer to the question in bullet #6: rising prices. Managing this almost inevitable trend might be one of the major challenges during the next decade.

See the reference page Food – articles about this global crisis. See these posts about food:
Important news about the global food crisis!, 1 April 2021
A view from Indonesia of the food crisis, 3 April 2021
Stratfor warns about the global food crisis, 18 April 2008
What you probably do not know about China's food crisis, 21 April 2008
Higher food prices, riots, shortages – what is going on?, 29 April 2021
A modest proposal for solving the global food crisis, 30 April 2008
Weekend reading about the Food Crisis, 17 May 2021
Is global food production peaking?, 13 January 2022
Fertilizer overuse destroying Chinese soil, 18 February 2010
Turkey Prices Hit Record Before Thanksgiving on Feed Costs BL


32-US STOCK MARKET VALUATIONS
---
---



CENTRAL BANKING MONETARY POLICIES, ACTIONS & ACTIVITIES

------------

Investors Walk Out as the Fed Buys In WSJ


As the Fed began its "QE2" stimulus buying, investors sold off everything from stocks to Treasury bonds and gold. The Dow Jones Industrial Average was off 2.2% for the week. The Treasury note's yield was pushed up more than 0.20 percentage point for the week.


QE II Bet Starts to Unravel Mish


A representative of Curve Watchers Anonymous said "I have never seen action like this before. The middle part of the curve is blowing up even as the long bond rallies. The action indicates that everyone who front-ran the Fed purchases is now unloading to the Fed. "

The 5-year is off 14 basis points while the 30-year is up 8. This is quite unusual to say the least.


Fed Efforts to Revive Economy Find Critics NYT (Norris)

Crossing the Rubicon into the World of QE-2 Dorsch

Bernanke's worst nightmare: Ron Paul CNN

Littman: Police the Fed DetNews

easuring the Success of Bernanke's QE II "Virtuous Circle" Mish

Alert: QE II Has Lit the Fuse Martenson

Media Spins Illusion of Hope and Change Ackerman



GENERAL INTEREST

Commodity super-cycle seems to be a runner again FT

Fiscal Crises and Imperial Collapses: Historical Perspective on Current Predicaments Niall Ferguson

Recession Shadows America's Middle Class Spiegel

Secret Walmart Survey Shows Inflation Already Here CNBC

Geopolitical Journey, Part I: The Traveler Stratfor

FLASH CRASH - HFT - DARK POOLS

MARKET WARNINGS

Shanghai Composite tumbles 5.2% on rate hike fears MW

METALS

GRAINS

How to invest for the next bubble Jubak

Why Dow 11,000 Is Worth a Lot Less Now Than in 2001 Smith Smith 2

G20 MEETING
World leaders set loose timetable and 'indicative guidelines'

U.S. Gets Rebuffed at Divided Summit WSJ

Obama Tries to Repair Damage WSJ


G-20 Refuses to Back US Push on China's Currency AP

China's Hu Urges Responsibility from US Sinchew


"Major reserve-currency economies must carry out responsible policies and keep their exchange rates relatively stable"

China's Hu resists pressure from Obama on yuan revaluation WSJ

That China was emboldened to lecture the US on its currency underscores how it and other countries have emerged from the global economic crisis faster and more strongly than the US.

QE2 may have 'catastrophic consequences' for global economy China D

Bickering Likely to Lame G-20 Summit Spiegel

Frenemies? U.S.-China Relations Carnegie

Obama Says Fed Move Not an Issue During Talks MW Video


CURRENCY WARS

The Dollar: Every Man For Himself Merk

QE2 may accelerate wane of U.S. dollar as world's reserve currency Xinhua

Geithner Takes A Shot At Greenspan On The Strength Of The Dollar HP

Cash flood may trigger new Asia crisis: HK chief AFP

The 'dollar era' coming to an end? Voice or Russia

Gold: The Market's Global Currency Mises

Q3 EARNINGS

Cisco's blood is running in the streets Hulbert


MARKET & GOLD MANIPULATION

AUDIO / VIDEO

Quantitative Easing Explained You Tube

QUOTE OF THE WEEK


"It could unfold very, very quickly. Because deflation is a swing of poverty feedback, it can take awhile to build up. If you try to explain to people what's coming, because it doesn't happen instantly, they tend to go back to sleep. The thing they need to understand, however, is that when it does hit a tipping point, a kind of critical mass, then it can unfold exceptionally quickly. Then it's very much like having the rug pulled out from under your feet. So I tell people all the time, prepare now because it's better to be two years too early than five minutes too late. You can't play with this sort of thing. In September, 2008, we came within a few hours of the banking system seizing up, and that could easily happen again. People wouldn't get a lot of notice. For anyone who's not in the meeting room-it will be too late by the time they find out. My worry is that if there are an enormous number of people who just had the rug pulled out from under their feet, they're going to run around like headless chickens, and the human over-reaction to events will be really responsible for a large percentage of the impact. "

Automatic Earth

BUY ANY BOOK

GET 2 MONTH SUBSCRIPTION TO

MONTHLY MARKET

COMMENTARY

BOOKSTORE
Gordon T Long is not a registered advisor and does not give investment advice. His comments are an expression of opinion only and should not be construed in any manner whatsoever as recommendations to buy or sell a stock, option, future, bond, commodity or any other financial instrument at any time. While he believes his statements to be true, they always depend on the reliability of his own credible sources. Of course, he recommends that you consult with a qualified investment advisor, one licensed by appropriate regulatory agencies in your legal jurisdiction, before making any investment decisions, and barring that, we encourage you confirm the facts on your own before making important investment commitments.ont>
© Copyright 2010 Gordon T Long. The information herein was obtained from sources which Mr. Long believes reliable, but he does not guarantee its accuracy. None of the information, advertisements, website links, or any opinions expressed constitutes a solicitation of the purchase or sale of any securities or commodities. Please note that Mr. Long may already have invested or may from time to time invest in securities that are recommended or otherwise covered on this website. Mr. Long does not intend to disclose the extent of any current holdings or future transactions with respect to any particular security. You should consider this possibility before investing in any security based upon statements and information contained in any report, post, comment or recommendation you receive from him.
WEEKEND
11-13-10
NOVEMBER
S
M
T
W
T
F
S
1
2
3
4
5
6
7
8
9
10
11
12
13
14
15
16
17
18
19
20
21
22
23
24
25
26
27
28
29
30
---
TIPPING POINTS
1-SOVEREIGN DEBT & CREDIT CRISIS
2-EU BANKING CRISIS
3-BOND BUBBLE
4-STATE & LOCAL GOVERNMENT
5-CENTRAL & EASTERN EUROPE
6-BANKING CRISIS II
7-RISK REVERSAL
8-COMMERCIAL REAL ESTATE
9-RESIDENTIAL REAL ESTATE - PHASE II
10-EXPIRATION FINANCIAL CRISIS PROGRAM
11-PENSION CRISIS
12-CHRONIC UNEMPLOYMENT
13-GOVERNMENT BACKSTOP INSUR.
14-CORPORATE BANKRUPTCY
15-CREDIT CONTRACTION II
16-US FISCAL IMBALANCES
17-CHINA BUBBLE
18-INTEREST PAYMENTS
19-US PUBLIC POLICY MISCUES
20-JAPAN DEBT DEFLATION SPIRAL
21-US RESERVE CURRENCY.
22-SHRINKING REVENUE GROWTH RATE
23-FINANCE & INSURANCE WRITE-DOWNS
24-RETAIL SALES
25-US DOLLAR WEAKNESS
26-GLOBAL OUTPUT GAP
27-CONFIDENCE - SOCIAL UNREST
28-ENTITLEMENT CRISIS
29-IRAN NUCLEAR THREAT
30-OIL PRICE PRESSURES
31-FOOD PRICE PRESSURES
32-US STOCK MARKET VALUATIONS
33-PANDEMIC
34-
S$ RESERVE CURRENCY
35-TERRORIST EVENT
36-NATURAL DISASTER
---
READING THE RIGHT BOOKS? NO TIME?
WE HAVE IT ANALYZED & INCLUDED IN OUR LATEST RESEARCH PAPERS!
ACCEPTING PRE-ORDERS
Book Review- Five Thumbs Up for Steve Greenhut's Plunder! Mish