---
---
---
FREE
COPY
(pdf)
Current Thesis Advisory
62 pages
Published November 2009
EXTEND & PRETEND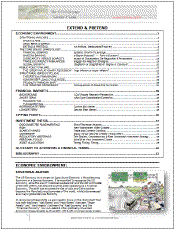 Click page to view Index
Add Promo Code: "Introduction"
in the Subject Heading
---
---
READ ALL THE
"PRESERVE & PROTECT" SERIES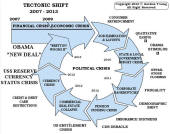 FOR UPCOMING SHOW TIMES SEE: COMMENTARY READER
Last Update: 11/18/2010 12:54 PM
SCHEDULE: 1st Pass: 5:30AM EST, 2nd Pass: 8:00 AM, 3rd Pass 10:30 AM. Last Pass 5:30 PM

Complete Legend to the Right, Top Items below.
Articles with highlights, graphics and any pertinent analysis found below.

| | |
| --- | --- |
| LATEST RESEARCH PUBLICATIONS | RSS |
COMMENTARY for all articles by Gordon T Long
CURRENCY WARS: Debase, Default, Deny!

In September 2008 the US came to a fork in the road. The Public Policy decision to not seize the banks, to not place them in bankruptcy court with the government acting as the Debtor-in-Possession (DIP), to not split them up by selling off the assets to successful and solvent entities, set the world on the path to global currency wars.

By lowering interest rates and effectively guaranteeing a weak dollar, the US ignited an almost riskless global US$ Carry Trade and triggered an uncontrolled Currency War with the mercantilist, export driven Asian economies. We are now debasing the US dollar with reckless spending and money printing with the policies of Quantitative Easing (QE) I and the expectations of QE II. Both are nothing more than effectively defaulting on our obligations to sound money policy and a "strong US$". Meanwhile with a straight face we deny that this is our intention.

Though prior to the 2008 financial crisis our largest banks had become casino like speculators with public money lacking in fiduciary responsibility, our elected officials bailed them out. Our leadership placed America and the world unknowingly (knowingly?) on a preordained destructive path because it was politically expedient and the easiest way out of a difficult predicament. By kicking the can down the road our political leadership, like the banks, avoided their fiduciary responsibility. Similar to a parent wanting to be liked and a friend to their children they avoided the difficult discipline that is required at certain critical moments in life. The discipline to make America swallow a needed pill. The discipline to ask Americans to accept a period of intense adjustment. A period that by now would be starting to show signs of success versus the abyss we now find ourselves staring into. A future that is now massively worse and with potentially fatal pain still to come. READ MORE

CURRENCY WARS: Misguided Economic Policy

The critical issues in America stem from minimally a blatantly ineffective public policy, but overridingly a failed and destructive Economic Policy. These policy errors are directly responsible for the opening salvos of the Currency War clouds now looming overhead.

Don't be fooled for a minute. The issue of Yuan devaluation is a political distraction from the real issue – a failure

of US policy leadership. In my opinion the US Fiscal and Monetary policies are misguided. They are wrong! I wrote a 66 page thesis paper entitled "Extend & Pretend" in the fall of 2009 detailing why the proposed Keynesian policy direction was flawed and why it would fail. I additionally authored a full series of articles from January through August in a broadly published series entitled "Extend & Pretend" detailing the predicted failures as they unfolded. Don't let anyone tell you that what has happened was not fully predictable!

Now after the charade of Extend & Pretend has run out of momentum and more money printing is again required through Quantitative Easing (we predicted QE II was inevitable in March), the responsible US politicos have cleverly ignited the markets with QE II money printing euphoria in the run-up to the mid-term elections. Craftily they are taking political camouflage behind an "undervalued Yuan" as the culprit for US problems. Remember, patriotism is the last bastion of scoundres READ MORE
---
---
READER ROADMAP - 2010 TIPPING POINTS aid to positioning COMMENTARY
1-SOVEREIGN DEBT

2-EU BANKING CRISIS
3-BOND BUBBLE

4-STATE & LOCAL GOVERNMENT

5-CENTRAL & EASTERN EUROPE
6-BANKING CRISIS II
7-RISK REVERSAL

8-COMMERCIAL REAL ESTATE

9-RESIDENTIAL REAL ESTATE - PHASE II
10-EXPIRATION FINANCIAL CRISIS PROGRAM
11-PENSION CRISIS

12-CHRONIC UNEMPLOYMENT

13-GOVERNMENT BACKSTOP INSUR.
14-CORPORATE BANKRUPTCY
11-18-10
GEO-POLITICAL TENSIONS - ISRAEL / KOREA / IRAN
IRAN
ISREAL
KOREA
1- SOVEREIGN DEBT & CREDIT CRISIS
time (et)
report
period
Actual
Consensus
forecast
previous
Thursday, Nov. 18
8:30 am
Jobless claims
11/13
439,000
445,000
437,000
10 am
Leading indicators
Oct.
0.6%
0.3%
10 am
Philly Fed
Nov.
5.0
1.0
Jobless Claims in U.S. Increase Less Than Forecast BL

BOB RUBIN: "US In Terribly Dangerous Territory," Bond Market May Be Headed For "Implosion" BI
Warning of the risk of an "implosion" in the bond market, former Treasury Secretary Robert Rubin says the soaring federal budget deficit and the Fed's quantitative easing are putting the U.S. in "terribly dangerous territory."

Speaking at an event at The Pierre Hotel in New York City honoring Sen. Kent Conrad (D-N.D.), Rubin joined the growing number of current and former officials (foreign and domestic) to criticize QE2. The Fed's plan to buy $600 billion of Treasuries "has a lot of risk," he said, calling the international reaction "horrendous."

Rubin, who issued a similar warning about the bond market at The FT's "Future of Finance" conference in October, said Congress' vote on raising the deficit ceiling next spring could be the "trigger" for a rout in the Treasury market. Several Republican and Tea Party candidates vowed to not increase the government's debt ceiling unless Democrats agree to sharp cuts in spending that may not be politically tenable.

A Congressional standoff on the debt ceiling could spook international investors, Rubin said, alluding to a market event similar to the Dow's 778-point plunge on Sept. 29, 2008, when the House initially voted no on TARP.

While most pundits worry about the potential for China to dump its Treasury holdings, the former non-executive chairman of Citigroup said a financial version of the Cold War concept of Mutual Assured Destruction will likely prevent them from doing so. But he is worried about selling by the government's of Singapore, Hong Kong and Malaysia. "They could say 'the Chinese are stuck but we're not,'" Rubin predicts.
Bond Vigilantes Ride Again Forsyth
4- STATE & LOCAL GOVERNMENT
Cities Face a Deepening Fiscal Crisis Real Clear
Crisis looming in US municipal debt market (Whitney) FT Video


5- CENTRAL & EASTERN EUROPE
Fed to Require Capital Plan From Banks
WSJ

The Federal Reserve will require all 19 banks that underwent stress tests during the height of the financial crisis to undergo another review of their capital base and their ability to absorb potential losses.

The Federal Reserve will require all 19 banks that underwent stress tests during the height of the financial crisis to undergo another review of their capital base and their ability to absorb potential losses.

The Fed, in guidance issued on Wednesday, said the 19 banks must submit capital plans by early next year showing their ability to withstand losses under a set of conditions to be determined by the central bank, including "adverse" economic conditions.
FDIC Conducting 50 Criminal Investigations Into Failed Banks HP
The Real Cause Of Europe's Sovereign Debt Crisis: Mamma's Boys BI
8- COMMERCIAL REAL ESTATE
9-RESIDENTIAL REAL ESTATE - PHASE II
Mortgage Applications in U.S. Post Biggest Drop of 2010 BL
Courts Helping Banks Screw Over Homeowners Taibbi
The Appraisal Racket Slate

Why the housing bubble's burst failed to align the home-appraisal business with reality.
10- EXPIRATION FINANCIAL CRISIS PROGRAM
11- PENSION & ENTITLEMENTS CRISIS
13- GOVERNMENT BACKSTOP INSURANCE
14- CORPORATE BANKRUPTCIES

Economic power shifting from U.S. to China, Soros says G&M

Time to face up to China Morici

China introduces food subsidies BBC

China Said to Seek Foreign Buyers for Guangzhou Bank BL

China's October electricity consumption up 8.5% Xinhua

For Chinese Scientists, a Glut of Work Back Home WSJ

For China's Toymakers, an Unwanted Gift BL



19- PUBLIC POLICY MISCUES
Unemployment insurance sent $319 billion to the jobless CNN
Unemployed Americans have collected $319 billion in jobless benefits over the past three years due to the federal government's unprecedented response to the Great Recession, according to a CNNMoney analysis of federal records.
The cost of such benefits will be central to the heated debate in Congress in coming weeks over whether to extend this safety net for the fifth time this year. Lawmakers must act by Nov. 30 or two million people will start losing extended benefits next month.
The federal government has already footed $109 billion of the bill.
The jobless now receive an unparalleled level of support while they look for new positions. Benefits last up to 99 weeks, far surpassing the previous record, which totaled 65 weeks during the recession of the mid-1970s.
Some 8.5 million people are collecting unemployment insurance, including 4.8 million receiving federal benefits.

U.S. Deficit Plan Misses the One Big Gap Lowenstein
One Way to Trim Deficit: Cultivate Growth Leonhardt
Budget Puzzle: You Fix the Budget NYT
The Politics of Debt: Part 2 ATimes
Pay up, or wiggle out


---
---
OTHER TIPPING POINT CATEGORIES NOT LISTED ABOVE

24-RETAIL SALES

26-GLOBAL OUTPUT GAP

31-FOOD PRICE PRESSURES

Like Hell There's No Inflation BI
"Everything Looks Fine to ME!"

32-US STOCK MARKET VALUATIONS
---
---



CENTRAL BANKING MONETARY POLICIES, ACTIONS & ACTIVITIES

------------


Bernanke in Big Trouble, Global Investors Prepare to Dump Trillions of Dollars North



THE SPOTLIGHT IS ON BERNANKE

The general public knew nothing of the FED as recently as the summer of 2008. There was no Tea Party movement. Ron Paul went public with his campaign's criticisms as the recession was getting worse. He raised so much money that he got the attention of the Establishment. He was cogent in the debates. This is why Fox News finally banned him from the debates. The mainstream Media had not dared to do that until Fox did its deed. But by then, it was way too late.

Then came the crisis of September and October. That proved Paul correct. He had warned of this, and it hit in full view of the voters. It cost John McCain the Presidency.

The fall-out has been almost entirely negative for the FED. Academia is still behind the FED, but academia has been exposed as utterly incompetent. None of its Keynesian policies has worked. The voters know this. The unemployment statistics remain stuck well above 9%.

Bernanke is now a target. He can shrug off criticism from the Right, but if his policies are not followed by reduced unemployment, more exports, a reduction in the balance of payments deficit, economic growth, and a reduced Federal deficit, the popular media will start calling for more radical measures. He is not a radical man. He is a mild-mannered professor who had not been in the spotlight before 2008. Now he can't get out of the spotlight. He can run, but he can't hide.

He has no aura of invulnerability. Volcker had this. Greenspan had this. No one remembers Miller, whose term lasted only 18 months. How many reporters remember Burns? Hardly any. So, from the point of view of today's media, Bernanke is weak. Now he is getting hammered by events.

The President went to the two Asian economic summits in the way that a desperate man goes to Las Vegas with a small stake in the hope of winning big and covering his debts back home. He came up short. He crapped out. Yet he was acting as the agent of Bernanke. He went into the lion's den in the week that Bernanke had announced his new policy of buying T-bonds, a move so obviously aimed at weakening the dollar that the Asians rebuffed Obama as if he were the President of a banana republic. All he could do after striking out was to brag about some non-existent singles. There were no singles.

The world's central bankers used to hold Greenspan and Volcker in reverence. Bernanke commands nothing like this degree of respect. The world's central bankers are waiting for him to make mistakes. They give no sign of encouragement. They did not praise his November 3 announcement. They remained mute. The German finance minister said Bernanke is clueless. No major international financial decision-maker came to his defense.

CONCLUSION

Bernanke is going to come under fire from all sides: domestic, international, political, financial. Everyone wants the FED to remain the rock of Gibraltar, because the world is holding trillions of dollars' worth of Treasury debt. If the dollar falls, those who hold T-bills and T-bond will be exposed as suckers – lapdogs of the Federal Reserve. No one wants to be seen as anyone's lapdog, especially when he really is. Everyone is ready to run to the lifeboats if the Good Ship Bernanke is perceived as going to Davy Jones' locker.

The only question is this: Which lifeboats will float, if any?


The most foolish economic policy move ever? Bear's Lair


The Fed's QE2 is definitely in the running; final outcome will determine if it's the worst.


QE2 Pits Bernanke Against Obama Export Plan BL

Robert Prechter Explains The Fed, Part I EW

Bernanke's `Cheap Money' Spurs Corporate Investment Outside U.S. BL

The case against QE Salmon

GOP Wants To Strip Fed Of Power To Combat Joblessness HP



GENERAL INTEREST

The Coming Sell-Out to the Super Rich and What It Means for the Rest of Us Hudson

Global Investment Review Bedlam Monthly

Warren Buffett's Letter to Uncle Sam NYT

FLASH CRASH - HFT - DARK POOLS

MARKET WARNINGS

As speculators withdraw, the market bears awaken Rosenberg

Touch of Grey: Market Takes a Breather Sonders


G20 MEETING

Three Reasons Global Talks Hit Dead End El-Erian


CURRENCY WARS

'Yuan should become reserve currency' WSJ

Mr Guo said the IMF should "immediately" include the yuan as a component of its SPDRs

Yuan Weakens BW

Q3 EARNINGS

MARKET & GOLD MANIPULATION

AUDIO / VIDEO

QUOTE OF THE WEEK


"The thought that you can create a prosperous economy by inflating is an illusion"
Volcker

"We sure have to maintain some confidence in the dollar or none of this would work" Volcker

BUY ANY BOOK

GET 2 MONTH SUBSCRIPTION TO

MONTHLY MARKET

COMMENTARY

BOOKSTORE
Gordon T Long is not a registered advisor and does not give investment advice. His comments are an expression of opinion only and should not be construed in any manner whatsoever as recommendations to buy or sell a stock, option, future, bond, commodity or any other financial instrument at any time. While he believes his statements to be true, they always depend on the reliability of his own credible sources. Of course, he recommends that you consult with a qualified investment advisor, one licensed by appropriate regulatory agencies in your legal jurisdiction, before making any investment decisions, and barring that, we encourage you confirm the facts on your own before making important investment commitments.ont>
© Copyright 2010 Gordon T Long. The information herein was obtained from sources which Mr. Long believes reliable, but he does not guarantee its accuracy. None of the information, advertisements, website links, or any opinions expressed constitutes a solicitation of the purchase or sale of any securities or commodities. Please note that Mr. Long may already have invested or may from time to time invest in securities that are recommended or otherwise covered on this website. Mr. Long does not intend to disclose the extent of any current holdings or future transactions with respect to any particular security. You should consider this possibility before investing in any security based upon statements and information contained in any report, post, comment or recommendation you receive from him.
THURSDAY
11-18-10
NOVEMBER
---
TIPPING POINTS
1-SOVEREIGN DEBT & CREDIT CRISIS
2-EU BANKING CRISIS
3-BOND BUBBLE
4-STATE & LOCAL GOVERNMENT
5-CENTRAL & EASTERN EUROPE
6-BANKING CRISIS II
7-RISK REVERSAL
8-COMMERCIAL REAL ESTATE
9-RESIDENTIAL REAL ESTATE - PHASE II
10-EXPIRATION FINANCIAL CRISIS PROGRAM
11-PENSION CRISIS
12-CHRONIC UNEMPLOYMENT
13-GOVERNMENT BACKSTOP INSUR.
14-CORPORATE BANKRUPTCY
15-CREDIT CONTRACTION II
16-US FISCAL IMBALANCES
17-CHINA BUBBLE
18-INTEREST PAYMENTS
19-US PUBLIC POLICY MISCUES
20-JAPAN DEBT DEFLATION SPIRAL
21-US RESERVE CURRENCY.
22-SHRINKING REVENUE GROWTH RATE
23-FINANCE & INSURANCE WRITE-DOWNS
24-RETAIL SALES
25-US DOLLAR WEAKNESS
26-GLOBAL OUTPUT GAP
27-CONFIDENCE - SOCIAL UNREST
28-ENTITLEMENT CRISIS
29-IRAN NUCLEAR THREAT
30-OIL PRICE PRESSURES
31-FOOD PRICE PRESSURES
32-US STOCK MARKET VALUATIONS
33-PANDEMIC
34-
S$ RESERVE CURRENCY
35-TERRORIST EVENT
36-NATURAL DISASTER
---
READING THE RIGHT BOOKS? NO TIME?
WE HAVE IT ANALYZED & INCLUDED IN OUR LATEST RESEARCH PAPERS!
ACCEPTING PRE-ORDERS
Book Review- Five Thumbs Up for Steve Greenhut's Plunder! Mish