---
---
---
FREE
COPY
(pdf)
Current Thesis Advisory
62 pages
Published November 2009
EXTEND & PRETEND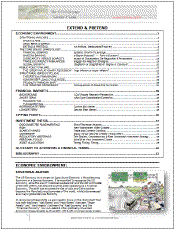 Click page to view Index
Add Promo Code: "Introduction"
in the Subject Heading
---
---
READ ALL THE
"PRESERVE & PROTECT" SERIES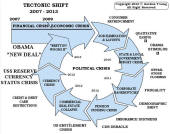 FOR UPCOMING SHOW TIMES SEE: COMMENTARY READER
Last Update: 11/20/2010 03:36 AM
SCHEDULE: 1st Pass: 5:30AM EST, 2nd Pass: 8:00 AM, 3rd Pass 10:30 AM. Last Pass 5:30 PM

Complete Legend to the Right, Top Items below.
Articles with highlights, graphics and any pertinent analysis found below.

| | |
| --- | --- |
| LATEST RESEARCH PUBLICATIONS | RSS |
COMMENTARY for all articles by Gordon T Long
CURRENCY WARS: Debase, Default, Deny!

In September 2008 the US came to a fork in the road. The Public Policy decision to not seize the banks, to not place them in bankruptcy court with the government acting as the Debtor-in-Possession (DIP), to not split them up by selling off the assets to successful and solvent entities, set the world on the path to global currency wars.

By lowering interest rates and effectively guaranteeing a weak dollar, the US ignited an almost riskless global US$ Carry Trade and triggered an uncontrolled Currency War with the mercantilist, export driven Asian economies. We are now debasing the US dollar with reckless spending and money printing with the policies of Quantitative Easing (QE) I and the expectations of QE II. Both are nothing more than effectively defaulting on our obligations to sound money policy and a "strong US$". Meanwhile with a straight face we deny that this is our intention.

Though prior to the 2008 financial crisis our largest banks had become casino like speculators with public money lacking in fiduciary responsibility, our elected officials bailed them out. Our leadership placed America and the world unknowingly (knowingly?) on a preordained destructive path because it was politically expedient and the easiest way out of a difficult predicament. By kicking the can down the road our political leadership, like the banks, avoided their fiduciary responsibility. Similar to a parent wanting to be liked and a friend to their children they avoided the difficult discipline that is required at certain critical moments in life. The discipline to make America swallow a needed pill. The discipline to ask Americans to accept a period of intense adjustment. A period that by now would be starting to show signs of success versus the abyss we now find ourselves staring into. A future that is now massively worse and with potentially fatal pain still to come. READ MORE

CURRENCY WARS: Misguided Economic Policy

The critical issues in America stem from minimally a blatantly ineffective public policy, but overridingly a failed and destructive Economic Policy. These policy errors are directly responsible for the opening salvos of the Currency War clouds now looming overhead.

Don't be fooled for a minute. The issue of Yuan devaluation is a political distraction from the real issue – a failure

of US policy leadership. In my opinion the US Fiscal and Monetary policies are misguided. They are wrong! I wrote a 66 page thesis paper entitled "Extend & Pretend" in the fall of 2009 detailing why the proposed Keynesian policy direction was flawed and why it would fail. I additionally authored a full series of articles from January through August in a broadly published series entitled "Extend & Pretend" detailing the predicted failures as they unfolded. Don't let anyone tell you that what has happened was not fully predictable!

Now after the charade of Extend & Pretend has run out of momentum and more money printing is again required through Quantitative Easing (we predicted QE II was inevitable in March), the responsible US politicos have cleverly ignited the markets with QE II money printing euphoria in the run-up to the mid-term elections. Craftily they are taking political camouflage behind an "undervalued Yuan" as the culprit for US problems. Remember, patriotism is the last bastion of scoundres READ MORE
---
---
READER ROADMAP - 2010 TIPPING POINTS aid to positioning COMMENTARY
1-SOVEREIGN DEBT

2-EU BANKING CRISIS
3-BOND BUBBLE

4-STATE & LOCAL GOVERNMENT

5-CENTRAL & EASTERN EUROPE
6-BANKING CRISIS II
7-RISK REVERSAL

8-COMMERCIAL REAL ESTATE

9-RESIDENTIAL REAL ESTATE - PHASE II
10-EXPIRATION FINANCIAL CRISIS PROGRAM
11-PENSION CRISIS

12-CHRONIC UNEMPLOYMENT

13-GOVERNMENT BACKSTOP INSUR.
14-CORPORATE BANKRUPTCY
11-19-10
1- SOVEREIGN DEBT & CREDIT CRISIS
OECD Reduces World Economic Forecast as Governments Start to Withdraw Aid BL OECD
European Austerity - Cutting Back WSJ
AUSTERITY LOOKS BY COUNTRY - VIDEOS OF EACH COUNTRY
Massive restructuring of eurozone debt now inevitable Warner
IRELAND
Irish Central Banker Sees 'Substantial' EU/IMF Loan Reuters
Ireland set to tap 80bn loan as it opens door to IMF mission Telegraph
Economic crash to drive 100,000 out of Ireland Independent
Ireland's defiant stand against a bailout shames the bullies in the eurozone Inde
'Tens of Billions' Seen for Ireland WSJ
A loan of "tens of billions" of euros will be made to Ireland by its European Union counterparts said Patrick Honohan, member of the European Central Bank's governing council and governor of the Central Bank of Ireland.
Banks will use any IMF/ECB money as contingent funding which can be shown to investors that Ireland has the "firepower" to deal with its problems, but not necessarily used, and noted that there have been substantial outflows of deposits from Irish banks since April.
EU Plan for Ireland Takes Shape WSJ
Ireland already has said it will commit as much as €50 billion ($67 billion) to put new capital into five wounded banks. Those funds replace money devoured by losses on bad property lending. Ireland says that is enough, but European officials—including some at the European Central Bank—aren't so sure, according to people familiar with the matter.
Germany, France and other euro-zone governments have been pressing Ireland to accept help because they fear that the longer Ireland's crisis festers, the greater the risk that investors will also flee the bonds and banks of Portugal and Spain.
Dublin is worried that the price of budgetary aid would be a surrender of taxation policy to the IMF and the EU, which has made clear it thinks Ireland's ultra-low corporate tax rate should be raised.
Ireland needs to improve the underlying balance of its budget, excluding debt-service costs, by about 12 percentage points of GDP—a turnaround even bigger than Greece needs to achieve in the next few years, according to David Mackie, economist at J.P. Morgan in London. "The Irish journey looks to be the most challenging" of all the euro members which need to repair their budgets, Mr. Mackie wrote in a research note.
Corporate tax threat to Irish industrial policy WSJ
No measures would damage Irish self-image more than if an Irish government were forced, by its EU partners, to abandon the country's long-standing policy of keeping taxes on business low. France, Germany and other nations with higher corporate tax rates have always disliked Ireland's low-tax regime, but they have been unable to change it because taxation, under EU law, remains a matter of national responsibility.
Now, with Ireland expected to receive international financial aid because of the desperate condition of its banks, some EU governments sniff an opportunity to extract concessions from Dublin on corporate tax. For Ireland's Fianna Fáil-led government, as well as for opposition parties, this is a non-starter. The low corporation tax rate of 12.5 per cent is universally regarded as a cornerstone of Irish industrial policy. Even Sinn Féin, the hardline nationalist party with a leftwing economic line, felt obliged during Ireland's 2007 election campaign to exclude from its platform its previous commitment to raising corporate taxation.
The reasons for Ireland's diehard defence of low business taxes are not purely economic. When Irish voters backed the EU's Lisbon treaty on institutional reform in an October 2009 referendum, they did so partly because their government had won a cast-iron promise from other EU governments that the treaty left intact Ireland's sovereignty in matters of taxation.
This promise was instrumental in converting Ireland's rejection of the treaty in a 2008 referendum, by a margin of 53.4 to 46.6 per cent, into an overwhelming Yes vote of 67.1 to 32.9 per cent. It was not the only guarantee of sovereignty that Ireland negotiated with its EU partners – others covered neutrality, family law and the right to retain a European Commission seat – but it played its part in deflating the "No" campaign in 2009.
External pressure to raise corporation tax would therefore be politically explosive in Ireland.
One in 20 Irish mortgages in arrears FT

JAPAN
Japan: Prolonged Stagnation: 2010-12 Economic Outlook Morgan Stanley

time (et)
report
period
Actual
Consensus
forecast
previous
FRIDAY, Nov. 19
None scheduled
4- STATE & LOCAL GOVERNMENT
Crisis looming in US municipal debt market? Whitney
Whalen: California Will Default On Its Debt, Says Tech Ticker
Budget crisis: A timeline SF Gate
California plans to sell almost $14 billion just as the municipal bond market gets pummeled MW
For California, a New Month, a New Deficit Ocala
5- CENTRAL & EASTERN EUROPE
Mark-to-Make-Believe Perfumes Rotten Loans
Weil

Just when it looked like U.S. banks were starting to reveal the true values of their loans, it turns out there's an accounting loophole they can exploit to keep bad news buried.
8- COMMERCIAL REAL ESTATE
9-RESIDENTIAL REAL ESTATE - PHASE II
Rust Belt Cities Demolish Homes as Defaults Blight Neighborhoods BL
10- EXPIRATION FINANCIAL CRISIS PROGRAM
11- PENSION & ENTITLEMENTS CRISIS
13- GOVERNMENT BACKSTOP INSURANCE
14- CORPORATE BANKRUPTCIES
19- PUBLIC POLICY MISCUES
---
---
OTHER TIPPING POINT CATEGORIES NOT LISTED ABOVE

24-RETAIL SALES

26-GLOBAL OUTPUT GAP

31-FOOD PRICE PRESSURES

Vilsack- Food Costs Won't Surge WSJ

After food, China faces bigger inflation challenge AP

Food Inflation: Less than Meets the Eye Morgan Stanley

Commodity food prices are soaring and will soon start to push up food costs for consumers; many commodity quotes are up 20-65% over the past six months. But we estimate that the translation from commodity to retail price hikes will only be about 2-3%, and that the direct impact on overall inflation will amount to just 0.2-0.3%.

...

From farm to table: Much smaller increases: Four factors typically mute the translation of commodity to finished food prices: raw material costs are a fraction of the price of finished foods; sellers partially absorb commodity costs in their margins; when feedgrain quotes jump, meat prices plunge as herds are slaughtered; and consumers will substitute cheaper foods for more expensive ones.

Modest upside risks to food and overall inflation: A weaker dollar and increased excess demand would hike food quotes further. In turn, further commodity price hikes likely will sustain higher inflation expectations, perhaps pushing up overall inflation by more than we expect. But we see little chance that rising food quotes will soon contribute to an upside breakout.

Eating more processed food actually insulates America from price volatility.

32-US STOCK MARKET VALUATIONS
---
---



CENTRAL BANKING MONETARY POLICIES, ACTIONS & ACTIVITIES

------------

Bernanke Seeks to Reassure Senators WSJ


According to Shelby, Bernanke told the group the bond-purchase program would create between 700,000 and 1 million jobs over the next two years.


Bernanke not the only one printing money Pollaro

Fed's course calls all hands on deck Markman

Fed's jobs goal means misery ATimes

Bernanke in Big Trouble North

S.F. Fed official expects recovery to be a slog SF Chronicle



GENERAL INTEREST

I Wonder What Milton Friedman and Karl Brunner Would Say About Allan Meltzer Kasriel

Door Number Two Revisited ­ Part I: Re-inflation theory and practice iTulip

Regions diverging, tearing the world apart. Birth pangs for a new geopolitical order FMaximus

Wall Street's "Recovery" Leaves Main Street Mugged in the Gutter Smith

Financial crisis panel delays report until January LAT


FLASH CRASH - HFT - DARK POOLS

MARKET WARNINGS

G20 MEETING

CURRENCY WARS

No room for boom as money gushes: RBA Dow Jones

The Overvalued Yuan Caixin

Comparison between U.S. and China from January 2008 to June 2010

In China,M2money growth was 61 percent from January 2008 to June 2010. And M2 of the dollar grew at 14 percent during the same period. Why should a currency appreciate when it is being printed in faster speed than another one? It is true that China'sGDPgrew faster than the U.S. GDP.

But even after adjusting for GDP growth, the spread between M2 growth and GDP in China was 42 percent, versus the spread of 19 percent in US. Using this measure, shouldn't the yuan be devalued by 23 percent relative to the dollar?

Let me present two examples that tell a different story:

● The average BMW 3 series sells for US$ 45,000, and for 480,000 yuan in Beijing. The fair exchange rate is 480K/45K=11 yuan/dollar. On this basis, the yuan is 55 percent over-valued based on a BMW car!

● One pint of Ben & Jerry's chocolate ice cream sells for 60 yuan in Beijing, and US$ 3.89 in New York. Nominal exchange rates are 60/3.89=15 yuan/dollar. Versus the nominal exchange rate of 6.85, the yuan is 150 percent of over-valued based on ice cream!

Many identical goods and services are more expensive in Beijing than in New York.

Besides ice cream and cars, the calculating the real exchange rate would require the inclusion of many other types of goods and services. But the items that are included in the basket, and how the sampling is drawn – can all be easily contested. The calculation of a fair exchange rate based on a PPP that economists from both sides of the Pacific can agree upon is really anyone's game.

Government interventions bring unnecessary deadlock on an issue that could easily be solved in the marketplace. The best mechanism to determine exchange rate policy is for the market to decide by supply and demand.

However, in an era of greater regulation and intervention, it seems we will only have to sit through more squabbling between various governments.
Q3 EARNINGS

MARKET & GOLD MANIPULATION

AUDIO / VIDEO

QUOTE OF THE WEEK



"The thought that you can create a prosperous economy by inflating is an illusion"
Volcker

"We sure have to maintain some confidence in the dollar or none of this would work" Volcker

BUY ANY BOOK

GET 2 MONTH SUBSCRIPTION TO

MONTHLY MARKET

COMMENTARY

BOOKSTORE
Gordon T Long is not a registered advisor and does not give investment advice. His comments are an expression of opinion only and should not be construed in any manner whatsoever as recommendations to buy or sell a stock, option, future, bond, commodity or any other financial instrument at any time. While he believes his statements to be true, they always depend on the reliability of his own credible sources. Of course, he recommends that you consult with a qualified investment advisor, one licensed by appropriate regulatory agencies in your legal jurisdiction, before making any investment decisions, and barring that, we encourage you confirm the facts on your own before making important investment commitments.ont>
© Copyright 2010 Gordon T Long. The information herein was obtained from sources which Mr. Long believes reliable, but he does not guarantee its accuracy. None of the information, advertisements, website links, or any opinions expressed constitutes a solicitation of the purchase or sale of any securities or commodities. Please note that Mr. Long may already have invested or may from time to time invest in securities that are recommended or otherwise covered on this website. Mr. Long does not intend to disclose the extent of any current holdings or future transactions with respect to any particular security. You should consider this possibility before investing in any security based upon statements and information contained in any report, post, comment or recommendation you receive from him.
---
TIPPING POINTS
1-SOVEREIGN DEBT & CREDIT CRISIS
2-EU BANKING CRISIS
3-BOND BUBBLE
4-STATE & LOCAL GOVERNMENT
5-CENTRAL & EASTERN EUROPE
6-BANKING CRISIS II
7-RISK REVERSAL
8-COMMERCIAL REAL ESTATE
9-RESIDENTIAL REAL ESTATE - PHASE II
10-EXPIRATION FINANCIAL CRISIS PROGRAM
11-PENSION CRISIS
12-CHRONIC UNEMPLOYMENT
13-GOVERNMENT BACKSTOP INSUR.
14-CORPORATE BANKRUPTCY
15-CREDIT CONTRACTION II
16-US FISCAL IMBALANCES
17-CHINA BUBBLE
18-INTEREST PAYMENTS
19-US PUBLIC POLICY MISCUES
20-JAPAN DEBT DEFLATION SPIRAL
21-US RESERVE CURRENCY.
22-SHRINKING REVENUE GROWTH RATE
23-FINANCE & INSURANCE WRITE-DOWNS
24-RETAIL SALES
25-US DOLLAR WEAKNESS
26-GLOBAL OUTPUT GAP
27-CONFIDENCE - SOCIAL UNREST
28-ENTITLEMENT CRISIS
29-IRAN NUCLEAR THREAT
30-OIL PRICE PRESSURES
31-FOOD PRICE PRESSURES
32-US STOCK MARKET VALUATIONS
33-PANDEMIC
34-
S$ RESERVE CURRENCY
35-TERRORIST EVENT
36-NATURAL DISASTER
---
READING THE RIGHT BOOKS? NO TIME?
WE HAVE IT ANALYZED & INCLUDED IN OUR LATEST RESEARCH PAPERS!
ACCEPTING PRE-ORDERS
Book Review- Five Thumbs Up for Steve Greenhut's Plunder! Mish