---
---
---
FREE
COPY
(pdf)
Current Thesis Advisory
62 pages
Published November 2009
EXTEND & PRETEND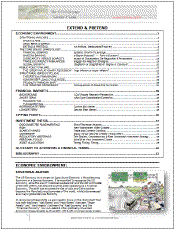 Click page to view Index
Add Promo Code: "Introduction"
in the Subject Heading
---
---
READ ALL THE
"PRESERVE & PROTECT" SERIES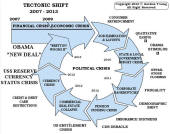 FOR UPCOMING SHOW TIMES SEE: COMMENTARY READER
Last Update: 12/02/2021 08:01 PM
SCHEDULE: 1st Pass: 5:30AM EST, 2nd Pass: 8:00 AM, 3rd Pass 10:30 AM. Last Pass 5:30 PM

Complete Legend to the Right, Top Items below.
Articles with highlights, graphics and any pertinent analysis found below.

| | |
| --- | --- |
| LATEST RESEARCH PUBLICATIONS | RSS |
COMMENTARY for all articles by Gordon T Long
CURRENCY WARS: Debase, Default, Deny!

In September 2008 the US came to a fork in the road. The Public Policy decision to not seize the banks, to not place them in bankruptcy court with the government acting as the Debtor-in-Possession (DIP), to not split them up by selling off the assets to successful and solvent entities, set the world on the path to global currency wars.

By lowering interest rates and effectively guaranteeing a weak dollar, the US ignited an almost riskless global US$ Carry Trade and triggered an uncontrolled Currency War with the mercantilist, export driven Asian economies. We are now debasing the US dollar with reckless spending and money printing with the policies of Quantitative Easing (QE) I and the expectations of QE II. Both are nothing more than effectively defaulting on our obligations to sound money policy and a "strong US$". Meanwhile with a straight face we deny that this is our intention.

Though prior to the 2008 financial crisis our largest banks had become casino like speculators with public money lacking in fiduciary responsibility, our elected officials bailed them out. Our leadership placed America and the world unknowingly (knowingly?) on a preordained destructive path because it was politically expedient and the easiest way out of a difficult predicament. By kicking the can down the road our political leadership, like the banks, avoided their fiduciary responsibility. Similar to a parent wanting to be liked and a friend to their children they avoided the difficult discipline that is required at certain critical moments in life. The discipline to make America swallow a needed pill. The discipline to ask Americans to accept a period of intense adjustment. A period that by now would be starting to show signs of success versus the abyss we now find ourselves staring into. A future that is now massively worse and with potentially fatal pain still to come. READ MORE

CURRENCY WARS: Misguided Economic Policy

The critical issues in America stem from minimally a blatantly ineffective public policy, but overridingly a failed and destructive Economic Policy. These policy errors are directly responsible for the opening salvos of the Currency War clouds now looming overhead.

Don't be fooled for a minute. The issue of Yuan devaluation is a political distraction from the real issue – a failure

of US policy leadership. In my opinion the US Fiscal and Monetary policies are misguided. They are wrong! I wrote a 66 page thesis paper entitled "Extend & Pretend" in the fall of 2009 detailing why the proposed Keynesian policy direction was flawed and why it would fail. I additionally authored a full series of articles from January through August in a broadly published series entitled "Extend & Pretend" detailing the predicted failures as they unfolded. Don't let anyone tell you that what has happened was not fully predictable!

Now after the charade of Extend & Pretend has run out of momentum and more money printing is again required through Quantitative Easing (we predicted QE II was inevitable in March), the responsible US politicos have cleverly ignited the markets with QE II money printing euphoria in the run-up to the mid-term elections. Craftily they are taking political camouflage behind an "undervalued Yuan" as the culprit for US problems. Remember, patriotism is the last bastion of scoundres READ MORE
---
---
READER ROADMAP - 2010 TIPPING POINTS aid to positioning COMMENTARY
1-SOVEREIGN DEBT

2-EU BANKING CRISIS
3-BOND BUBBLE

4-STATE & LOCAL GOVERNMENT

5-CENTRAL & EASTERN EUROPE
6-BANKING CRISIS II
7-RISK REVERSAL

8-COMMERCIAL REAL ESTATE

9-RESIDENTIAL REAL ESTATE - PHASE II
10-EXPIRATION FINANCIAL CRISIS PROGRAM
11-PENSION CRISIS

12-CHRONIC UNEMPLOYMENT

13-GOVERNMENT BACKSTOP INSUR.
14-CORPORATE BANKRUPTCY
12-02-10
GEO-POLITICAL TENSIONS - ISRAEL / KOREA / IRAN
1- SOVEREIGN DEBT & CREDIT CRISIS
A paradox of the debt crisis is that the 16-nation euro zone, as a whole, has a budget deficit of around 6% of GDP and total public debts of around 84% of GDP. While not exactly low...that is healthier than in the U.S., which is running a budget deficit of over 11% and has total debts of around 92% of GDP.
US Ready to Back Bigger EU Stability Fund: Official CNBC
U.S. Treasury: No talks now on bigger EU fund MW
Euro crisis worries spread, U.S. to send envoy Reuters
PIGS CDS Maoxian
Click to Enlarge
EMU requires 'nuclear response' Telegraph
"Once Spain needs assistance, the support of the ECB will be critical."
Why European debt defaults are necessary Salmon Default Fears
Euro Crisis Threatens Financial Armageddon III IBTimes
PORTUGAL
Portugal banks face 'intolerable' risk unless austerity measures are implemented Tele
Portugal May Be Cut by S&P... BL
SPAIN
Only one of the PIIGS matters. S is for Spain La Monica
Spain to Sell Stake in State Lottery, Eliminate Jobless Benefit BL
Spain to sell stake in lucrative state lottery FT
IRELAND
Irish, Greek defaults will reshape Europe Rubin
Ireland's debt servitude Pritchard
The Irish Banking Crisis: A Parable Harvard
Animated Video Huffington Post
JAPAN
Eurozone bail-out fund to issue bonds FT
4- STATE & LOCAL GOVERNMENT
US States Face More Financial Stress: Official Report AP NASBO
5- CENTRAL & EASTERN EUROPE
8- COMMERCIAL REAL ESTATE
9-RESIDENTIAL REAL ESTATE - PHASE II
Construction Spending in U.S. Unexpectedly Climbs on Residential Projects BL
2nd Leg of Home Price Declines Underway Zacks
House Prices - Tip of Iceberg of Housing Market Woes NTrust
Foreclosures: Still in Limbo Global Insight
The Foreclosure Pileup: More Bad News for the US Economy HP
10- EXPIRATION FINANCIAL CRISIS PROGRAM
11- PENSION & ENTITLEMENTS CRISIS
Employers in U.S. Announce Most Job Cuts in Eight Months, Challenger Says
BL


Bernanke worries slow economy limiting job growth AP


Unemployment checks to 2 million to stop by the end of December
USAT


State Street to cut 1,400 jobs in reorganization AP


BarCap to cut hundreds of jobs as revenues fall
FT


Smaller Firms Still Hesitant to Hire
WSJ

13- GOVERNMENT BACKSTOP INSURANCE
14- CORPORATE BANKRUPTCIES
19- PUBLIC POLICY MISCUES
Tax Cuts Likely to Be Extended Temporarily WSJ
In Tax Cuts, the Options Run Short NYT (Leonhardt)
Obama debt panel delays final vote CNN
Is Congress making money off advance economic knowledge? WT
---
---
OTHER TIPPING POINT CATEGORIES NOT LISTED ABOVE

24-RETAIL SALES

26-GLOBAL OUTPUT GAP

31-FOOD PRICE PRESSURES

32-US STOCK MARKET VALUATIONS
---
---



GENERAL INTEREST

'Sunspot Analyst' Sees Major Military Conflict in 2012 CNN

MARKET WARNINGS

Commodities daily- Falling shipping rates mask truth FT

CURRENCY WARS

Dollar Proves Best-Returning Asset in November, Defies Skeptics BL



Volcker Says Dollar's Role in Danger as U.S. Influence Declines BL

Overseas money floods Chinese property market China Daily

Q3 EARNINGS

MARKET & GOLD MANIPULATION

AUDIO / VIDEO

The Day the Dollar Died YouTube

QUOTE OF THE WEEK





"Germany cannot keep paying for bail-outs without going bankrupt itself. This is frightening people. You cannot find a bank safe deposit box in Germany because every single one has already been taken and stuffed with gold and silver. It is like an underground Switzerland within our borders. People have terrible memories of 1948 and 1923 when they lost their savings."

Professor Wilhelm Hankel, of Frankfurt University
EU rescue costs start to threaten Germany itself - Telegraph


"We're not swimming in money, we're drowning in debts"

German finance minister Wolfgang Schäuble before Bundestag
EU rescue costs start to threaten Germany itself - Telegraph

BUY ANY BOOK

GET 2 MONTH SUBSCRIPTION TO

MONTHLY MARKET

COMMENTARY

BOOKSTORE
Gordon T Long is not a registered advisor and does not give investment advice. His comments are an expression of opinion only and should not be construed in any manner whatsoever as recommendations to buy or sell a stock, option, future, bond, commodity or any other financial instrument at any time. While he believes his statements to be true, they always depend on the reliability of his own credible sources. Of course, he recommends that you consult with a qualified investment advisor, one licensed by appropriate regulatory agencies in your legal jurisdiction, before making any investment decisions, and barring that, we encourage you confirm the facts on your own before making important investment commitments.ont>
© Copyright 2010 Gordon T Long. The information herein was obtained from sources which Mr. Long believes reliable, but he does not guarantee its accuracy. None of the information, advertisements, website links, or any opinions expressed constitutes a solicitation of the purchase or sale of any securities or commodities. Please note that Mr. Long may already have invested or may from time to time invest in securities that are recommended or otherwise covered on this website. Mr. Long does not intend to disclose the extent of any current holdings or future transactions with respect to any particular security. You should consider this possibility before investing in any security based upon statements and information contained in any report, post, comment or recommendation you receive from him.
THURSDAY
12-02-10
DECEMBER
S
M
T
W
T
F
S
1
2
3
4
5
6
7
8
9
10
11
12
13
14
15
16
17
18
19
20
21
22
23
24
25
26
27
28
29
30
31
---
TIPPING POINTS
1-SOVEREIGN DEBT & CREDIT CRISIS
2-EU BANKING CRISIS
3-BOND BUBBLE
4-STATE & LOCAL GOVERNMENT
5-CENTRAL & EASTERN EUROPE
6-BANKING CRISIS II
7-RISK REVERSAL
8-COMMERCIAL REAL ESTATE
9-RESIDENTIAL REAL ESTATE - PHASE II
10-EXPIRATION FINANCIAL CRISIS PROGRAM
11-PENSION CRISIS
12-CHRONIC UNEMPLOYMENT
13-GOVERNMENT BACKSTOP INSUR.
14-CORPORATE BANKRUPTCY
15-CREDIT CONTRACTION II
16-US FISCAL IMBALANCES
17-CHINA BUBBLE
18-INTEREST PAYMENTS
19-US PUBLIC POLICY MISCUES
20-JAPAN DEBT DEFLATION SPIRAL
21-US RESERVE CURRENCY.
22-SHRINKING REVENUE GROWTH RATE
23-FINANCE & INSURANCE WRITE-DOWNS
24-RETAIL SALES
25-US DOLLAR WEAKNESS
26-GLOBAL OUTPUT GAP
27-CONFIDENCE - SOCIAL UNREST
28-ENTITLEMENT CRISIS
29-IRAN NUCLEAR THREAT
30-OIL PRICE PRESSURES
31-FOOD PRICE PRESSURES
32-US STOCK MARKET VALUATIONS
33-PANDEMIC
34-
S$ RESERVE CURRENCY
35-TERRORIST EVENT
36-NATURAL DISASTER
---
READING THE RIGHT BOOKS? NO TIME?
WE HAVE IT ANALYZED & INCLUDED IN OUR LATEST RESEARCH PAPERS!
ACCEPTING PRE-ORDERS
Book Review- Five Thumbs Up for Steve Greenhut's Plunder! Mish
This site contains copyrighted material the use of which has not always been specifically authorized by the copyright owner. We are making such material available in our efforts to advance understanding of environmental, political, human rights, economic, democracy, scientific, and social justice issues, etc. We believe this constitutes a 'fair use' of any such copyrighted material as provided for in section 107 of the US Copyright Law. In accordance with Title 17 U.S.C. Section 107, the material on this site is distributed without profit to those who have expressed a prior interest in receiving the included information for research and educational purposes.
If you wish to use copyrighted material from this site for purposes of your own that go beyond 'fair use', you must obtain permission from the copyright owner.