---
---
---
FREE
COPY
(pdf)
Current Thesis Advisory
62 pages
Published November 2009
EXTEND & PRETEND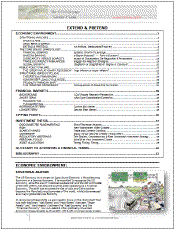 Click page to view Index
Add Promo Code: "Introduction"
in the Subject Heading
---
---
READ ALL THE
"PRESERVE & PROTECT" SERIES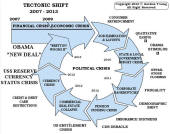 FOR UPCOMING SHOW TIMES SEE: COMMENTARY READER
Last Update: 12/06/2021 04:53 AM
SCHEDULE: 1st Pass: 5:30AM EST, 2nd Pass: 8:00 AM, 3rd Pass 10:30 AM. Last Pass 5:30 PM

Complete Legend to the Right, Top Items below.
Articles with highlights, graphics and any pertinent analysis found below.

| | |
| --- | --- |
| LATEST RESEARCH PUBLICATIONS | RSS |
COMMENTARY for all articles by Gordon T Long
CURRENCY WARS: Debase, Default, Deny!

In September 2008 the US came to a fork in the road. The Public Policy decision to not seize the banks, to not place them in bankruptcy court with the government acting as the Debtor-in-Possession (DIP), to not split them up by selling off the assets to successful and solvent entities, set the world on the path to global currency wars.

By lowering interest rates and effectively guaranteeing a weak dollar, the US ignited an almost riskless global US$ Carry Trade and triggered an uncontrolled Currency War with the mercantilist, export driven Asian economies. We are now debasing the US dollar with reckless spending and money printing with the policies of Quantitative Easing (QE) I and the expectations of QE II. Both are nothing more than effectively defaulting on our obligations to sound money policy and a "strong US$". Meanwhile with a straight face we deny that this is our intention.

Though prior to the 2008 financial crisis our largest banks had become casino like speculators with public money lacking in fiduciary responsibility, our elected officials bailed them out. Our leadership placed America and the world unknowingly (knowingly?) on a preordained destructive path because it was politically expedient and the easiest way out of a difficult predicament. By kicking the can down the road our political leadership, like the banks, avoided their fiduciary responsibility. Similar to a parent wanting to be liked and a friend to their children they avoided the difficult discipline that is required at certain critical moments in life. The discipline to make America swallow a needed pill. The discipline to ask Americans to accept a period of intense adjustment. A period that by now would be starting to show signs of success versus the abyss we now find ourselves staring into. A future that is now massively worse and with potentially fatal pain still to come. READ MORE

CURRENCY WARS: Misguided Economic Policy

The critical issues in America stem from minimally a blatantly ineffective public policy, but overridingly a failed and destructive Economic Policy. These policy errors are directly responsible for the opening salvos of the Currency War clouds now looming overhead.

Don't be fooled for a minute. The issue of Yuan devaluation is a political distraction from the real issue – a failure

of US policy leadership. In my opinion the US Fiscal and Monetary policies are misguided. They are wrong! I wrote a 66 page thesis paper entitled "Extend & Pretend" in the fall of 2009 detailing why the proposed Keynesian policy direction was flawed and why it would fail. I additionally authored a full series of articles from January through August in a broadly published series entitled "Extend & Pretend" detailing the predicted failures as they unfolded. Don't let anyone tell you that what has happened was not fully predictable!

Now after the charade of Extend & Pretend has run out of momentum and more money printing is again required through Quantitative Easing (we predicted QE II was inevitable in March), the responsible US politicos have cleverly ignited the markets with QE II money printing euphoria in the run-up to the mid-term elections. Craftily they are taking political camouflage behind an "undervalued Yuan" as the culprit for US problems. Remember, patriotism is the last bastion of scoundres READ MORE
---
---
READER ROADMAP - 2010 TIPPING POINTS aid to positioning COMMENTARY
1-SOVEREIGN DEBT

2-EU BANKING CRISIS
3-BOND BUBBLE

4-STATE & LOCAL GOVERNMENT

5-CENTRAL & EASTERN EUROPE
6-BANKING CRISIS II
7-RISK REVERSAL

8-COMMERCIAL REAL ESTATE

9-RESIDENTIAL REAL ESTATE - PHASE II
10-EXPIRATION FINANCIAL CRISIS PROGRAM
11-PENSION CRISIS

12-CHRONIC UNEMPLOYMENT

13-GOVERNMENT BACKSTOP INSUR.
14-CORPORATE BANKRUPTCY
12-04-10
GEO-POLITICAL TENSIONS - ISRAEL / KOREA / IRAN
IRAN
ISREAL
KOREA
1- SOVEREIGN DEBT & CREDIT CRISIS
CBS: Bernanke doesn't rule out more bond-buys MW
4- STATE & LOCAL GOVERNMENT
State Default Risk Levels BeSpoke
Below is a chart showing CDS prices for the 5 riskiest states in 2010. At the start of the year, California was by far the most expensive to insure, but Illinois' problems caused it to take the lead midway through the year. The two states have been fighting it out for the default risk lead over the past four months now. All states were basically trending lower from their mid-year default risk highs up until the last couple of weeks when sovereign debt worries in Europe drove up state CDS prices as well. The recent jumps have so far been nothing like we saw earlier in the year, however.
Future of popular Build America Bonds program in doubt Stateline


5- CENTRAL & EASTERN EUROPE
8- COMMERCIAL REAL ESTATE
9-RESIDENTIAL REAL ESTATE - PHASE II
10- EXPIRATION FINANCIAL CRISIS PROGRAM
11- PENSION & ENTITLEMENTS CRISIS
Unemployed, and Likely to Stay That Way NYT
13- GOVERNMENT BACKSTOP INSURANCE
14- CORPORATE BANKRUPTCIES
U.S. manufacturers could face slower 2011 growth Reuters
19- PUBLIC POLICY MISCUES
Deficit commission rejects sweeping reform plan MW
The road to a US insolvency crisis NYP

Here's how it could unfold.
The Treasury now pays a blended cost of about 2.45 percent a year for some $9.14 trillion in publicly held US debt, the lowest rate in more than half a century. But inflation and devaluation will inevitably lead investors to demand a higher return.
The burden is manageable if the rate drifts back up to, say, 5 percent (double the current cost and close to the historic average). But a crisis in confidence would cause an immediate spike up in bond yields and interest rates.
We're edging closer to the two conditions that could precipitate that crisis. One trigger would be the Fed balance sheet having grown too large for orderly liquidation except at fire-sale prices; the other would be disorderly ("failed") US Treasury auctions, wherein bidders step away because they see the risks as outweighing the return.
Such a crisis would mean the cost of servicing federal debt would skyrocket -- triggering a downward-spiraling liquidity crisis ending with the US government unable to finance its obligations.
And while Germany and the European Union were able to rescue Greece and Ireland (so far), there's no one to bail out the United States.
What to do? In January, the new Congress must focus on even more than the tough nut of real deficit, debt and spending reductions. We need more Fed transparency -- such as a public audit of its balance sheet, with stress tests to see the impact of sharply higher interest rates.
The news may be ugly -- but hard facts are what's needed to win public support for the sacrifices necessary to prevent the country from reaching a tipping point where mounting debt triggers an insolvency crisis.
---
---
OTHER TIPPING POINT CATEGORIES NOT LISTED ABOVE

24-RETAIL SALES

26-GLOBAL OUTPUT GAP

31-FOOD PRICE PRESSURES

32-US STOCK MARKET VALUATIONS
---
---



CENTRAL BANKING MONETARY POLICIES, ACTIONS & ACTIVITIES

------------

Wow- Bernanke Tells CBS That QE2 Isn't Limited To $600 Billion BI

Ben Bernanke will be on 60 Minutes this Sunday night.

The interview has been pre-recorded, and according to CNBC, Bernanke told CBS that QE2 isn't necessarily limited to just $600 billion.

The news is being cited for what pushed markets higher later in the day.

We'll have to wait until the whole transcripts are out to see what Bernanke actually said, of course, and it is very possible that he just said something pretty vague about the Fed always having all options open, depending on how things develop.

That being said, it was always pretty much known that this was possible.

The weird thing is: why this kind of messaging? And why drop this even as the fundamentals -- today's NFP report notwithstanding -- seem to be improving.

Gross Says Fed Unlikely to Raise Rates for Several Years BL Video

Damned If You Do - Or Don't Minack


Looking at the country-level shift in fiscal policy in the OECD, every major OECD country is expected to tighten fiscal policy in the coming year. The greatest number of countries simultaneously tightening fiscal policy over the past 30 years has been 10. Most of the historical examples of tightening were less than 1% of GDP. In other words, the extent of fiscal tightening planned for next year - both in terms of the number of countries planning to tighten and in terms of the severity of the tightening - is unprecedented.


Fed's Delay on Release of Transcripts Will Be Reviewed by Issa BL

Lawmakers meet Fed's Hoenig, discuss mandate Reuters

Fed Policies Work; EU Should Follow Germany: Greenspan CNBC

Cross Section of Rich Invested With the Fed NYT

Bernanke to Appear '60 Minutes' WSJ



GENERAL INTEREST

MARKET WARNINGS

Delaying Tax Vote Could Crash Stock Market USNews

Don't sell the rally short -- pros' performance worries will drive stocks: Jeff Saut TTicker

CURRENCY WARS

Brazil raises reserve requirements to avert bubble FT

Q3 EARNINGS

MARKET & GOLD MANIPULATION

GFMS sees silver average $30/oz in 2011; gold at $1,400 Reuters

AUDIO / VIDEO

The Day the Dollar Died YouTube

QUOTE OF THE WEEK





"Germany cannot keep paying for bail-outs without going bankrupt itself. This is frightening people. You cannot find a bank safe deposit box in Germany because every single one has already been taken and stuffed with gold and silver. It is like an underground Switzerland within our borders. People have terrible memories of 1948 and 1923 when they lost their savings."

Professor Wilhelm Hankel, of Frankfurt University
EU rescue costs start to threaten Germany itself - Telegraph


"We're not swimming in money, we're drowning in debts"

German finance minister Wolfgang Schäuble before Bundestag
EU rescue costs start to threaten Germany itself - Telegraph

BUY ANY BOOK

GET 2 MONTH SUBSCRIPTION TO

MONTHLY MARKET

COMMENTARY

BOOKSTORE
Gordon T Long is not a registered advisor and does not give investment advice. His comments are an expression of opinion only and should not be construed in any manner whatsoever as recommendations to buy or sell a stock, option, future, bond, commodity or any other financial instrument at any time. While he believes his statements to be true, they always depend on the reliability of his own credible sources. Of course, he recommends that you consult with a qualified investment advisor, one licensed by appropriate regulatory agencies in your legal jurisdiction, before making any investment decisions, and barring that, we encourage you confirm the facts on your own before making important investment commitments.ont>
© Copyright 2010 Gordon T Long. The information herein was obtained from sources which Mr. Long believes reliable, but he does not guarantee its accuracy. None of the information, advertisements, website links, or any opinions expressed constitutes a solicitation of the purchase or sale of any securities or commodities. Please note that Mr. Long may already have invested or may from time to time invest in securities that are recommended or otherwise covered on this website. Mr. Long does not intend to disclose the extent of any current holdings or future transactions with respect to any particular security. You should consider this possibility before investing in any security based upon statements and information contained in any report, post, comment or recommendation you receive from him.
WEEKEND
12-04-10
DECEMBER
S
M
T
W
T
F
S
1
2
3
4
5
6
7
8
9
10
11
12
13
14
15
16
17
18
19
20
21
22
23
24
25
26
27
28
29
30
31
---
TIPPING POINTS
1-SOVEREIGN DEBT & CREDIT CRISIS
2-EU BANKING CRISIS
3-BOND BUBBLE
4-STATE & LOCAL GOVERNMENT
5-CENTRAL & EASTERN EUROPE
6-BANKING CRISIS II
7-RISK REVERSAL
8-COMMERCIAL REAL ESTATE
9-RESIDENTIAL REAL ESTATE - PHASE II
10-EXPIRATION FINANCIAL CRISIS PROGRAM
11-PENSION CRISIS
12-CHRONIC UNEMPLOYMENT
13-GOVERNMENT BACKSTOP INSUR.
14-CORPORATE BANKRUPTCY
15-CREDIT CONTRACTION II
16-US FISCAL IMBALANCES
17-CHINA BUBBLE
18-INTEREST PAYMENTS
19-US PUBLIC POLICY MISCUES
20-JAPAN DEBT DEFLATION SPIRAL
21-US RESERVE CURRENCY.
22-SHRINKING REVENUE GROWTH RATE
23-FINANCE & INSURANCE WRITE-DOWNS
24-RETAIL SALES
25-US DOLLAR WEAKNESS
26-GLOBAL OUTPUT GAP
27-CONFIDENCE - SOCIAL UNREST
28-ENTITLEMENT CRISIS
29-IRAN NUCLEAR THREAT
30-OIL PRICE PRESSURES
31-FOOD PRICE PRESSURES
32-US STOCK MARKET VALUATIONS
33-PANDEMIC
34-
S$ RESERVE CURRENCY
35-TERRORIST EVENT
36-NATURAL DISASTER
---
READING THE RIGHT BOOKS? NO TIME?
WE HAVE IT ANALYZED & INCLUDED IN OUR LATEST RESEARCH PAPERS!
ACCEPTING PRE-ORDERS
Book Review- Five Thumbs Up for Steve Greenhut's Plunder! Mish