---
---
---
FREE
COPY
(pdf)
Current Thesis Advisory
62 pages
Published November 2009
EXTEND & PRETEND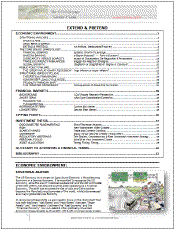 Click page to view Index
Add Promo Code: "Introduction"
in the Subject Heading
---
---
READ ALL THE
"PRESERVE & PROTECT" SERIES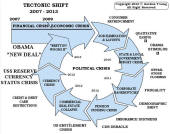 FOR UPCOMING SHOW TIMES SEE: COMMENTARY READER
Last Update: 12/17/2010 05:06 AM
SCHEDULE: 1st Pass: 5:30AM EST, 2nd Pass: 8:00 AM, 3rd Pass 10:30 AM. Last Pass 5:30 PM

Complete Legend to the Right, Top Items below.
Articles with highlights, graphics and any pertinent analysis found below.

| | |
| --- | --- |
| LATEST RESEARCH PUBLICATIONS | RSS |
COMMENTARY for all articles by Gordon T Long
CURRENCY WARS: Debase, Default, Deny!

In September 2008 the US came to a fork in the road. The Public Policy decision to not seize the banks, to not place them in bankruptcy court with the government acting as the Debtor-in-Possession (DIP), to not split them up by selling off the assets to successful and solvent entities, set the world on the path to global currency wars.

By lowering interest rates and effectively guaranteeing a weak dollar, the US ignited an almost riskless global US$ Carry Trade and triggered an uncontrolled Currency War with the mercantilist, export driven Asian economies. We are now debasing the US dollar with reckless spending and money printing with the policies of Quantitative Easing (QE) I and the expectations of QE II. Both are nothing more than effectively defaulting on our obligations to sound money policy and a "strong US$". Meanwhile with a straight face we deny that this is our intention.

Though prior to the 2008 financial crisis our largest banks had become casino like speculators with public money lacking in fiduciary responsibility, our elected officials bailed them out. Our leadership placed America and the world unknowingly (knowingly?) on a preordained destructive path because it was politically expedient and the easiest way out of a difficult predicament. By kicking the can down the road our political leadership, like the banks, avoided their fiduciary responsibility. Similar to a parent wanting to be liked and a friend to their children they avoided the difficult discipline that is required at certain critical moments in life. The discipline to make America swallow a needed pill. The discipline to ask Americans to accept a period of intense adjustment. A period that by now would be starting to show signs of success versus the abyss we now find ourselves staring into. A future that is now massively worse and with potentially fatal pain still to come. READ MORE

CURRENCY WARS: Misguided Economic Policy

The critical issues in America stem from minimally a blatantly ineffective public policy, but overridingly a failed and destructive Economic Policy. These policy errors are directly responsible for the opening salvos of the Currency War clouds now looming overhead.

Don't be fooled for a minute. The issue of Yuan devaluation is a political distraction from the real issue – a failure

of US policy leadership. In my opinion the US Fiscal and Monetary policies are misguided. They are wrong! I wrote a 66 page thesis paper entitled "Extend & Pretend" in the fall of 2009 detailing why the proposed Keynesian policy direction was flawed and why it would fail. I additionally authored a full series of articles from January through August in a broadly published series entitled "Extend & Pretend" detailing the predicted failures as they unfolded. Don't let anyone tell you that what has happened was not fully predictable!

Now after the charade of Extend & Pretend has run out of momentum and more money printing is again required through Quantitative Easing (we predicted QE II was inevitable in March), the responsible US politicos have cleverly ignited the markets with QE II money printing euphoria in the run-up to the mid-term elections. Craftily they are taking political camouflage behind an "undervalued Yuan" as the culprit for US problems. Remember, patriotism is the last bastion of scoundres READ MORE
---
---
READER ROADMAP - 2010 TIPPING POINTS aid to positioning COMMENTARY
1-SOVEREIGN DEBT

2-EU BANKING CRISIS
3-BOND BUBBLE

4-STATE & LOCAL GOVERNMENT

5-CENTRAL & EASTERN EUROPE
6-BANKING CRISIS II
7-RISK REVERSAL

8-COMMERCIAL REAL ESTATE

9-RESIDENTIAL REAL ESTATE - PHASE II
10-EXPIRATION FINANCIAL CRISIS PROGRAM
11-PENSION CRISIS

12-CHRONIC UNEMPLOYMENT

13-GOVERNMENT BACKSTOP INSUR.
14-CORPORATE BANKRUPTCY
12-16-10
1- SOVEREIGN DEBT & CREDIT CRISIS
US 'will lose AAA credit rating' Telegraph
`Avalanche' of Investor Sales Pushes Yields to 16-Month High BL
Did you just hear the bond bubble burst? PCap
Treasury Yields Surge Again, And the 30-Year Fixed Mortgage Rate Hits 5% Short
4- STATE & LOCAL GOVERNMENT
CBO Recommendation to Munis – Default! Krasting
Bill Gross invests in muni bond funds Reuters
5- CENTRAL & EASTERN EUROPE
8- COMMERCIAL REAL ESTATE
9-RESIDENTIAL REAL ESTATE - PHASE II
Mortgage applications fell in week; rates soar: MBA Reuters
Housing is the forgotten crisis MWN
The housing market is still dead, and worst of all, prices are falling again.
BofA in Mortgage Settlement Talks WSJ
Bank of America, after vowing to fight requests that it repurchase certain loans, has begun potential settlement discussions with some of its largest mortgage investors, according to people familiar with the situation.
10- EXPIRATION FINANCIAL CRISIS PROGRAM
11- PENSION & ENTITLEMENTS CRISIS
13- GOVERNMENT BACKSTOP INSURANCE
14- CORPORATE BANKRUPTCIES

Chinese Consumers Signal Deepest Concern With Prices Since 1999 BL

Fear and face dictate what China does with its money Finance Asia

Soaring Hong Kong Rents Prompt Financial Firms to Shift BL

And Now Presenting: Amazing Satellite Images Of The Ghost Cities Of China BInsider




19- PUBLIC POLICY MISCUES
Senate Passes Package Extending Bush Tax Cuts AP
Roubini: 'The economic policy is still lend, pray and hope' Telegraph
The 'Tax The Rich' Con, Part III Forbes
Larry Summers bids good riddance WP
---
---
CENTRAL BANKING MONETARY POLICIES, ACTIONS & ACTIVITIES

------------


Fed's medicine could worsen disease WSJ



GENERAL INTEREST

Zero Hedge's Tyler Durden: The U.S. Is Free Falling Into Bankruptcy BI

Having written so much about what's wrong with our current economic/financial/political system, what specific actions do you think need to be undertaken to fix things? Is an all-out collapse avoidable?

This is a question that we ask ourselves every day, and no matter how we spin it, we fail to see how an unwind to a previous "restore point" to borrow a computer analogy, is possible at this very late stage in the global Ponzi scheme.

We tend to simplify the world: When everything else is stripped, the only two things that matter are

a) where is the money coming from? and

b) where is it going?

And never in the history of the world have so many assets created so little cash flow.

To a big extent, this is due to the fact that a bulk of asset purchases in the past three decades have been due not to asset turnover, but as a result of cheap credit resulting from an explosion of credit money through the quadrillion dollar derivative boom. As a result, most incremental dollars go not to organic business growth and economic output, but to satisfying what has become the biggest debt burden in the history of the world, whereby the labor and intellectual output of most goes to fund the living standards of a very few.

Indicatively, when looking at total exchange and OTC traded derivatives, which eventually are converted into some form of credit money, the total tally at last check is just over $1.3 quadrillion. This is about 20 times the total economic output in the world each year. It becomes very clear why the current status quo is unsustainable absent a major global corporate and sovereign liability restructuring: In the bankruptcy business, this process is known as "growing into your balance sheet." Yet the main reason why the kleptocratic elite has been so opposed to this act is because no debt impairment is possible without eliminating the equity tranche below it. And in an ironic twist in which the Fed supports both the debt and equity markets, there is now about $13 trillion in equity capitalization in the US, which is backed by debt that for all intents and purposes needs to be impaired.

As a result, unless stakeholders in the liabilities of corporate America realize that the assets that collateralize these liabilities are woefully insufficient and come to a compromise in which either they alone or in combination with the creditors come to a consensual "restructuring" of the underlying claims, there is no other possible outcome than a free-fall bankruptcy. However, this will not be some Chapter 7 filed in the bankruptcy court of Southern District of New York. This will be the end of the current financial system.

This is also what some consider a "deflationary death spiral." And yes, no matter how much paper the Fed prints, this outcome is inevitable: All the Fed does through money printing is dilute the claims on both sides of the ledger. The best the Fed could then hope for to counteract the deflationary outcome is to generate hyperinflation through a collapse in the reserve currency (i.e., the Zimbabwe outcome). And since this is far more palatable to the Fed, we believe that one way or another, whether by fire or ice (to paraphrase Robert Frost), the existing, very unstable financial system will reach a point when the global systematic reset is inevitable.

An Austrian view of the IMF Hutchinson

How Hedge Funds Create Criminals HBR.org

Commodities: A Guide for Amateurs WSJ

Dubai Property Prices May Continue to Fall for Two More Years BL

BP shares fall after US sues for $21bn FT

The $21B is on top of the $20B BP has already agreed to pay for Gulff Coast damages is dependent on the ability to prove gross negligence.

MARKET WARNINGS

Investors told to abandon savings accounts and buy shares Telegraph

CURRENCY WARS

China's FDI rises sharply in Nov amid hot money concerns Shanghai Daily

MARKET & GOLD MANIPULATION

Gold Prices Suffer Selloff TheStreet

Gold ETF momentum slows - can silver investment be sustained? Mineweb

AUDIO / VIDEO

9 TRILLION Dollars Missing from Federal Reserve,Fed Inspector General Can't Explain You Tube

QUOTE OF THE WEEK





"Gold as money is incompatible with unlimited majority rule and scoffs at the idea that money is just 'credit'. It negates any rationale, however farfetched, for the existence of central banks. It precludes 'fractional reserve banking' or any other method of debasing its utility as a medium of exchange. Last and most important, it SEVERELY curbs the power of government to interfere in the lives of its citizens. No assembly of national "leaders" brought together to "modernize" a financial system will ever agree to its use as money. But let one nation anywhere implement it, and the lid blows off."

William A Buckler
Publisher: The Privateer

BUY ANY BOOK

GET 2 MONTH SUBSCRIPTION TO

MONTHLY MARKET

COMMENTARY

BOOKSTORE
Gordon T Long is not a registered advisor and does not give investment advice. His comments are an expression of opinion only and should not be construed in any manner whatsoever as recommendations to buy or sell a stock, option, future, bond, commodity or any other financial instrument at any time. While he believes his statements to be true, they always depend on the reliability of his own credible sources. Of course, he recommends that you consult with a qualified investment advisor, one licensed by appropriate regulatory agencies in your legal jurisdiction, before making any investment decisions, and barring that, we encourage you confirm the facts on your own before making important investment commitments.ont>
© Copyright 2010 Gordon T Long. The information herein was obtained from sources which Mr. Long believes reliable, but he does not guarantee its accuracy. None of the information, advertisements, website links, or any opinions expressed constitutes a solicitation of the purchase or sale of any securities or commodities. Please note that Mr. Long may already have invested or may from time to time invest in securities that are recommended or otherwise covered on this website. Mr. Long does not intend to disclose the extent of any current holdings or future transactions with respect to any particular security. You should consider this possibility before investing in any security based upon statements and information contained in any report, post, comment or recommendation you receive from him.
THURSDAY
12-16-10
DECEMBER
---
TIPPING POINTS
1-SOVEREIGN DEBT & CREDIT CRISIS
2-EU BANKING CRISIS
3-BOND BUBBLE
4-STATE & LOCAL GOVERNMENT
5-CENTRAL & EASTERN EUROPE
6-BANKING CRISIS II
7-RISK REVERSAL
8-COMMERCIAL REAL ESTATE
9-RESIDENTIAL REAL ESTATE - PHASE II
10-EXPIRATION FINANCIAL CRISIS PROGRAM
11-PENSION CRISIS
12-CHRONIC UNEMPLOYMENT
13-GOVERNMENT BACKSTOP INSUR.
14-CORPORATE BANKRUPTCY
15-CREDIT CONTRACTION II
16-US FISCAL IMBALANCES
17-CHINA BUBBLE
18-INTEREST PAYMENTS
19-US PUBLIC POLICY MISCUES
20-JAPAN DEBT DEFLATION SPIRAL
21-US RESERVE CURRENCY.
22-SHRINKING REVENUE GROWTH RATE
23-FINANCE & INSURANCE WRITE-DOWNS
24-RETAIL SALES
25-US DOLLAR WEAKNESS
26-GLOBAL OUTPUT GAP
27-CONFIDENCE - SOCIAL UNREST
28-ENTITLEMENT CRISIS
29-IRAN NUCLEAR THREAT
30-OIL PRICE PRESSURES
31-FOOD PRICE PRESSURES
32-US STOCK MARKET VALUATIONS
33-PANDEMIC
34-
S$ RESERVE CURRENCY
35-TERRORIST EVENT
36-NATURAL DISASTER
---
READING THE RIGHT BOOKS? NO TIME?
WE HAVE IT ANALYZED & INCLUDED IN OUR LATEST RESEARCH PAPERS!
ACCEPTING PRE-ORDERS
Book Review- Five Thumbs Up for Steve Greenhut's Plunder! Mish