---
---
---
FREE
COPY
(pdf)
Current Thesis Advisory
62 pages
Published November 2009
EXTEND & PRETEND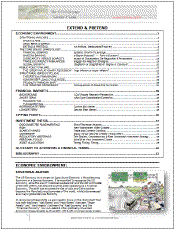 Click page to view Index
Add Promo Code: "Introduction"
in the Subject Heading
---
---
READ ALL THE
"PRESERVE & PROTECT" SERIES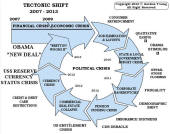 FOR UPCOMING SHOW TIMES SEE: COMMENTARY READER
Last Update: 12/20/2010 04:50 AM
SCHEDULE: 1st Pass: 5:30AM EST, 2nd Pass: 8:00 AM, 3rd Pass 10:30 AM. Last Pass 5:30 PM

Complete Legend to the Right, Top Items below.
Articles with highlights, graphics and any pertinent analysis found below.

| | |
| --- | --- |
| LATEST RESEARCH PUBLICATIONS | RSS |
COMMENTARY for all articles by Gordon T Long
CURRENCY WARS: Debase, Default, Deny!

In September 2008 the US came to a fork in the road. The Public Policy decision to not seize the banks, to not place them in bankruptcy court with the government acting as the Debtor-in-Possession (DIP), to not split them up by selling off the assets to successful and solvent entities, set the world on the path to global currency wars.

By lowering interest rates and effectively guaranteeing a weak dollar, the US ignited an almost riskless global US$ Carry Trade and triggered an uncontrolled Currency War with the mercantilist, export driven Asian economies. We are now debasing the US dollar with reckless spending and money printing with the policies of Quantitative Easing (QE) I and the expectations of QE II. Both are nothing more than effectively defaulting on our obligations to sound money policy and a "strong US$". Meanwhile with a straight face we deny that this is our intention.

Though prior to the 2008 financial crisis our largest banks had become casino like speculators with public money lacking in fiduciary responsibility, our elected officials bailed them out. Our leadership placed America and the world unknowingly (knowingly?) on a preordained destructive path because it was politically expedient and the easiest way out of a difficult predicament. By kicking the can down the road our political leadership, like the banks, avoided their fiduciary responsibility. Similar to a parent wanting to be liked and a friend to their children they avoided the difficult discipline that is required at certain critical moments in life. The discipline to make America swallow a needed pill. The discipline to ask Americans to accept a period of intense adjustment. A period that by now would be starting to show signs of success versus the abyss we now find ourselves staring into. A future that is now massively worse and with potentially fatal pain still to come. READ MORE

CURRENCY WARS: Misguided Economic Policy

The critical issues in America stem from minimally a blatantly ineffective public policy, but overridingly a failed and destructive Economic Policy. These policy errors are directly responsible for the opening salvos of the Currency War clouds now looming overhead.

Don't be fooled for a minute. The issue of Yuan devaluation is a political distraction from the real issue – a failure

of US policy leadership. In my opinion the US Fiscal and Monetary policies are misguided. They are wrong! I wrote a 66 page thesis paper entitled "Extend & Pretend" in the fall of 2009 detailing why the proposed Keynesian policy direction was flawed and why it would fail. I additionally authored a full series of articles from January through August in a broadly published series entitled "Extend & Pretend" detailing the predicted failures as they unfolded. Don't let anyone tell you that what has happened was not fully predictable!

Now after the charade of Extend & Pretend has run out of momentum and more money printing is again required through Quantitative Easing (we predicted QE II was inevitable in March), the responsible US politicos have cleverly ignited the markets with QE II money printing euphoria in the run-up to the mid-term elections. Craftily they are taking political camouflage behind an "undervalued Yuan" as the culprit for US problems. Remember, patriotism is the last bastion of scoundres READ MORE
---
---
READER ROADMAP - 2010 TIPPING POINTS aid to positioning COMMENTARY
1-SOVEREIGN DEBT

2-EU BANKING CRISIS
3-BOND BUBBLE

4-STATE & LOCAL GOVERNMENT

5-CENTRAL & EASTERN EUROPE
6-BANKING CRISIS II
7-RISK REVERSAL

8-COMMERCIAL REAL ESTATE

9-RESIDENTIAL REAL ESTATE - PHASE II
10-EXPIRATION FINANCIAL CRISIS PROGRAM
11-PENSION CRISIS

12-CHRONIC UNEMPLOYMENT

13-GOVERNMENT BACKSTOP INSUR.
14-CORPORATE BANKRUPTCY
12-18-10
GEO-POLITICAL TENSIONS - ISRAEL / KOREA / IRAN
KOREA
North Korea warns Seoul against military exercises CNN
Russia calls on SK to halt drills Reuters
1- SOVEREIGN DEBT & CREDIT CRISIS
The rise in bond yields does not solve a long-running dilemma ButtonWood
4- STATE & LOCAL GOVERNMENT
After Running Out Of Money, Chicago May Open Casino BI
5- CENTRAL & EASTERN EUROPE
SEC Subpoenas Goldman Sachs, JP Morgan, Citi, BofA and Wells Fargo Over Foreclosures
BI
Will 2011 mark the return of market risk, and the IMF? Whalen
8- COMMERCIAL REAL ESTATE
9-RESIDENTIAL REAL ESTATE - PHASE II
10- EXPIRATION FINANCIAL CRISIS PROGRAM
11- PENSION & ENTITLEMENTS CRISIS

Unemployment Rises in 21 States in Weak Job Market CNBC


Won't Help 99ers WSJ

13- GOVERNMENT BACKSTOP INSURANCE
14- CORPORATE BANKRUPTCIES
Chinese version of Windows in pipeline Shanghai Daily

Beijing admits it is building an aircraft carrier Asahi



19- PUBLIC POLICY MISCUES
U.S. House Passes Tax-Cut Extension, Sends to Obama BL
Special Report: Is America the sick man of the globe? Reuters

Geithner says bailout will cost less than $25B AP

Obama's double bubble WT
Lax lending policy could blow up housing market again

Budget Brawl Looms in Congress WSJ

---
---
OTHER TIPPING POINT CATEGORIES NOT LISTED ABOVE

24-RETAIL SALES

26-GLOBAL OUTPUT GAP

31-FOOD PRICE PRESSURES

32-US STOCK MARKET VALUATIONS
---
---



GENERAL INTEREST

Keeping the Good News in Perspective Leonhardt

The Coming College Education Bubble Forbes

Emerging Markets Briefer - December 2010 Danske

MARKET WARNINGS

Market Is Overbought, Overextended and Overvalued Comstock

After an 86 percent gain in 21 months the market looks overbought, overextended and overvalued.

Furthermore, despite the implementaion of QE2 and the passage of the tax compromise, the economy is not likely to grow fast enough to to be self-sustaining. Although the combination of QE2 and the White House/Congressional compromise on the tax extension issue is being touted as the great elixir that will spur economic growth we think that growth will be subdued and temporary. Indeed QE2 is already looking like a failure in its early stages. No matter what the "experts" say now, it was chrystal clear from the get-go that the Fed's intention was to lower long rates, not raise them. As it stands today the sharp rise in the 10-year Treasury bond is likely to further weaken an already dead housing market by enough to offset any additional growth that QE2 could have provided. Furthermore, the combination of QE2 and the big projected increase in the budget deficit caused by the compromise tax bill has helped spur another jump in commodity prices that will reduce real consumer income and negate much, if not all of the intended boost to consumer spending.

In addition economic growth will be tempered by:



1- the temporary nature of the stimulus,
2- continuing high unemployment,
3- a moribund housing sector,
4- the dire condition of state and local finances,
5- a lack of readily available credit and
6- the ongoing fragility of a banking sector that is still loaded with toxic assets that are significantly overvalued on banks' balance sheets.
7- Another major headwind to growth is the ongoing need to reduce household debt to normal levels after the credit binge of recent years. Consumer credit excluding student loans continued its year-long slide in October, falling by $32.5 billion, and the unwinding has barely started. Although consumer spending has perked up recently, we note that a national survey indicated that the percentage of people saying that they used their credit cards over the Thanksgiving day weekend was the lowest (17%) in the 27-year history of the survey. According to major credit card companies, the use of personal credit cards dropped 11% in the 3rd quarter from a year earlier. Does all of this sound like a consumer ready to spend freely? We think not.
8- As if all of the above weren't enough, the chances of financial and economic crises overseas, particularly in Europe, China and Japan are exceedingly high. The turmoil in the European Union is not a temporary crisis that will be cured with the wave of a wand. A number of the weaker EU nations are basically insolvent, and their debts, sooner or later will have to be restructured. The New York Times and Wall Street Journal recently highlighted the exposure of German, French, British and Spanish banks to the debts of Greece, Ireland and Portugal. The IMF has warned that if the EU doesn't come up with a permanent solution the EU economy could go off a cliff. Meanwhile the austerity measures being imposed on the troubled countries will be a drag on the EU economy for some time to come. As for China and Japan, we'll leave that for future comment.


In light of these problems we believe that investors are overly optimistic. An 86% market rise in 21 months has already discounted a lot of good news----some of which will not happen. The market looks overbought and overextended, and is showing signs of an imminent top with:


1- lagging breadth,
2- a lower number of new highs,
3- overenthusiastic sentiment,
4- higher-volume down days and
5- a more frequent number of late-day selloffs.

At this juncture we think that potential upside progress is limited while downside risk is high.

Sentiment has taken turn for the worse Hulbert

Investors cautious as volumes wind down FT

Breadth Remains Weak BeSpoke




Now Bullishness Is At Its Highest Level Since 2007 Pragmatic Capitalist

"Investors are beginning to feel more confident in the economic recovery and believe that equity prices have but one direction to move."

CURRENCY WARS

Loonie may be in 'death grip,' Carney should act: CIBC G&M

Dollar Rises After Moody's Downgrade of Ireland AP

Gold: Currency Wars and China ING

The Dollar Threads a Needle Browne

China faces exchange rate dilemma Reuters

MARKET & GOLD MANIPULATION

Stocks Up 17% Since Bernanke Disclosed QE2 Disarms Fed Critics BL

AUDIO / VIDEO

QUOTE OF THE WEEK





"Gold as money is incompatible with unlimited majority rule and scoffs at the idea that money is just 'credit'. It negates any rationale, however farfetched, for the existence of central banks. It precludes 'fractional reserve banking' or any other method of debasing its utility as a medium of exchange. Last and most important, it SEVERELY curbs the power of government to interfere in the lives of its citizens. No assembly of national "leaders" brought together to "modernize" a financial system will ever agree to its use as money. But let one nation anywhere implement it, and the lid blows off."

William A Buckler
Publisher: The Privateer


BUY ANY BOOK

GET 2 MONTH SUBSCRIPTION TO

MONTHLY MARKET

COMMENTARY

BOOKSTORE
Gordon T Long is not a registered advisor and does not give investment advice. His comments are an expression of opinion only and should not be construed in any manner whatsoever as recommendations to buy or sell a stock, option, future, bond, commodity or any other financial instrument at any time. While he believes his statements to be true, they always depend on the reliability of his own credible sources. Of course, he recommends that you consult with a qualified investment advisor, one licensed by appropriate regulatory agencies in your legal jurisdiction, before making any investment decisions, and barring that, we encourage you confirm the facts on your own before making important investment commitments.ont>
© Copyright 2010 Gordon T Long. The information herein was obtained from sources which Mr. Long believes reliable, but he does not guarantee its accuracy. None of the information, advertisements, website links, or any opinions expressed constitutes a solicitation of the purchase or sale of any securities or commodities. Please note that Mr. Long may already have invested or may from time to time invest in securities that are recommended or otherwise covered on this website. Mr. Long does not intend to disclose the extent of any current holdings or future transactions with respect to any particular security. You should consider this possibility before investing in any security based upon statements and information contained in any report, post, comment or recommendation you receive from him.
WEEKEND
12-18-10
DECEMBER
---
TIPPING POINTS
1-SOVEREIGN DEBT & CREDIT CRISIS
2-EU BANKING CRISIS
3-BOND BUBBLE
4-STATE & LOCAL GOVERNMENT
5-CENTRAL & EASTERN EUROPE
6-BANKING CRISIS II
7-RISK REVERSAL
8-COMMERCIAL REAL ESTATE
9-RESIDENTIAL REAL ESTATE - PHASE II
10-EXPIRATION FINANCIAL CRISIS PROGRAM
11-PENSION CRISIS
12-CHRONIC UNEMPLOYMENT
13-GOVERNMENT BACKSTOP INSUR.
14-CORPORATE BANKRUPTCY
15-CREDIT CONTRACTION II
16-US FISCAL IMBALANCES
17-CHINA BUBBLE
18-INTEREST PAYMENTS
19-US PUBLIC POLICY MISCUES
20-JAPAN DEBT DEFLATION SPIRAL
21-US RESERVE CURRENCY.
22-SHRINKING REVENUE GROWTH RATE
23-FINANCE & INSURANCE WRITE-DOWNS
24-RETAIL SALES
25-US DOLLAR WEAKNESS
26-GLOBAL OUTPUT GAP
27-CONFIDENCE - SOCIAL UNREST
28-ENTITLEMENT CRISIS
29-IRAN NUCLEAR THREAT
30-OIL PRICE PRESSURES
31-FOOD PRICE PRESSURES
32-US STOCK MARKET VALUATIONS
33-PANDEMIC
34-
S$ RESERVE CURRENCY
35-TERRORIST EVENT
36-NATURAL DISASTER
---
READING THE RIGHT BOOKS? NO TIME?
WE HAVE IT ANALYZED & INCLUDED IN OUR LATEST RESEARCH PAPERS!
ACCEPTING PRE-ORDERS
Book Review- Five Thumbs Up for Steve Greenhut's Plunder! Mish